No Weapon Formed Against You Shall Prosper
No Weapon Formed Against You Shall Prosper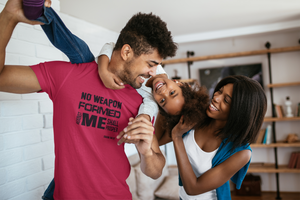 There is a war raging in the heavens for the souls of men.  There is indeed a war raging.  The kingdom of darkness wants to destroy and put a stop to God's Kingdom advancing on the earth.  But God promises us in Isaiah 54:17, "But no weapon that is formed against you shall prosper, and every tongue that shall rise against you in judgment you shall show to be in the wrong.  This (peace, righteousness, security, triumph over opposition) is the heritage of the servants of the Lord (those in whom the ideal Servant of the Lord is reproduced); this is the righteousness or the vindication which they obtain from Me (this is that which I impart to them as their justification), says the Lord," (AMPC). 
    The kingdom of darkness wants to impede, stop and destroy God's people and God's will being done in the earth.  The weapons will be formed, but they will not be successful.  Jesus has already won the battle and we as God's people need to enforce his victory.  Colossians 2:13-15 says, "And you who were dead in trespasses and in the uncircumcision of your flesh (your sensuality, your sinful carnal nature), (God) brought to life together with (Christ), having (freely) forgiven us all our transgressions, having cancelled and blotted out and wiped away the handwriting of the note (bond) with its legal decrees and demands which was in force and stood against us (hostile to us).  This (note with its regulations, decrees, and demands) He set aside and cleared completely out of our way by nailing it to (His) cross.  (God) disarmed the principalities and powers that were ranged against us and made a bold display and public example of them, in triumphing over them in Him and in it (the cross)," (AMPC). 
   In John 16:33 Jesus said, "I have told you these things, so that in Me you may have (perfect) peace and confidence.  In the world you have tribulation and trials and distress and frustration; but be of good cheer (take courage; be confident, certain undaunted)! For I have overcome the world.  (I have deprived it of power to harm you and have conquered it for you,)" (AMPC).  Jesus has already overcome the world and the kingdom of darkness and because He overcame, we overcome. 
   Personal Testimony 
When I first became a believer, it was a very intense time in my life.  I remember walking down a hill to one of my friend's house and I had my keys in my pocket.  At the bottom of the hill, there was one of my neighbors with his rottweiler. The dog was not leashed.   My keys jingled in my pocket and got the dog's attention.  The huge dog came charging up the hill at me.  The Holy Spirit came upon me and I had no fear.  I commanded, "In the name of Jesus stop!  In the name of Jesus stop!"  The dog stopped at my feet and looked behind me.  Then I said, "Now turn around and go back to your master."  The dog turned around and ran down the hill to its owner.  The owner quickly brought him in his house.  I continued walking and I was gloating over the authority that I possessed, but God quickly reminded me it was His angels who protected me.  No Weapon Formed Against Us Shall Prosper.  Be a voice for the gospel.  Wear Scriptures!